McKeesport has about 19,115 residents. It is located on the Monongahela River and the region is known as the "Mon Valley." McKeesport was founded in 1795 as a trading town. However, after the American Civil War industry began to develop due to McKeesport's location and the coal mines that surrounded it. In the 1880s several very large factories making iron and steel products flourished. They attracted thousands of workers, many of them immigrants from Eastern Europe. McKeesport and other cities in the Mon Valley continued to thrive until after the Second World War. With the collapse of the American Steel industry in the 1980s, the Mon Valley entered a period of decline.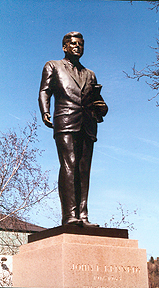 Statue at Site of Speech by President John Kennedy.
The City of McKeesport has many cultural assets. The McKeesport Symphony presents professional quality concerts that make it one of Pennsylvania's most popular regional symphony orchestras.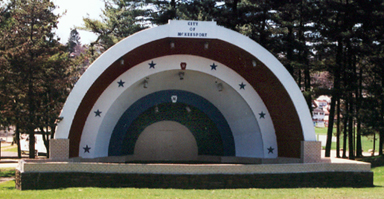 The City is also the site of the Greater Allegheny branch campus of Pennsylvania State University, which presents frequent lectures, plays, and concerts. Every August, the City hosts the International Food Festival, which draws crowds from the entire southwestern Pennsylvania area.
The area surrounding McKeesport has many other kinds of attractions as well. The Monongahela and Youghiogheny Rivers provide opportunities for boating and water sports. There are many trails for hiking and biking, including the Youghiogheny River Trail, which starts in McKeesport. Nearby Ohiopyle State Park offers spectacular scenery and some of the best white-water rafting in the eastern United States. Boyce Park, located northeast of McKeesport, has ski slopes and hiking trails. For families, the nationally famous Kennywood Amusement Park offers rides, food, and entertainment.
To the east is the Laurel Highlands area, which has many resorts providing skiing during the winter, and golf, camping hiking, biking, and boating during the summer. The brilliant colors of the autumn foliage season are breathtaking. This area is famous for two houses designed by the famous modern architect Frank Lloyd Wright. Falling Water is generally considered to be Wright's masterpiece and Kentuck Knob is a unique residence recently opened to the public. Laurel Highlands is also the location of the world-class Nemacolin Woodlands Resort, which features golf, riding, skiing, and fine dining. Whatever your interests are, McKeesport's history and location will make it easy for you to explore and enjoy them.