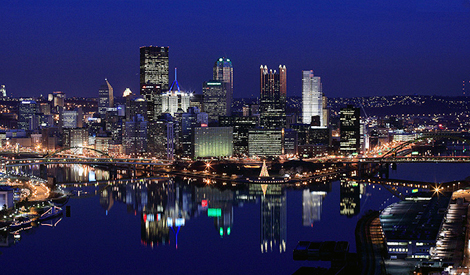 McKeesport is located 8 miles southeast of Pittsburgh.  Pittsburgh and its surroundings played pivotal roles in early colonial exploration and expansion due to its unique geography at the confluence of the Allegheny and Monongahela to form the Ohio River. The city of Pittsburgh was founded in 1758 with the establishment of Fort Pitt during the French and Indian War. Pittsburgh continued to grow and became an industrial powerhouse during the 19th century with the development of the US steel industry.  While the steel industry is a less dominant force in modern day Pittsburgh, downtown Pittsburgh is full of historical buildings from this earlier era mixed in with modern day skyscrapers and the legacy of steel baron Andrew Carnegie continues through the world class Carnegie museums and extensive library system.
Modern Pittsburgh is a thriving city with a multitude of opportunities.  Residents can take in a performance at the August Wilson African American Cultural Center in the Cultural District downtown or hop over one of the 445 bridges in the city to visit the Andy Warhol museum and check out the latest installation at the nearby Mattress Factory. Families can visit the Pittsburgh Zoo or stroll through the Phipps Conservatory, located inside one of Pittsburgh's large public parks.  More adventurous types might choose to spend an afternoon mountain biking in nearby Frick Park or kayaking along the rivers. Of course, there's almost always a game on somewhere in the city- be it the Steelers, Pirates, or Penguins.
Pittsburgh is consistently considered one of the most livable cities in the United States and after a visit here, it's not hard to see why.  With a wide range of neighborhoods, an expanding restaurant scene, and legendary sports teams, there's something for everyone in Pittsburgh.